Where did they come from?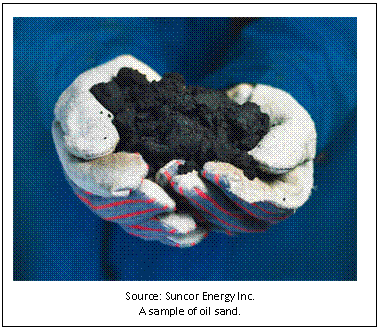 The origin of the Alberta oil sands is a controversial subject. Two primary theories subsist:
1.) These sands are the remnants of a once vast reserve of crude oil that, over extremely long periods of time, has escaped or been destroyed microbiologically; thus leaving behind some bitumen and also converting the lighter crude oil into bitumen through bacterial processes.
2.) The bitumen evolved from highly organic cretaceous shales (similar to oil shale). Underground pressure forced the bitumen out of the kerogen rich shales where it soaked into existing silt grade sediments and sand bodies.
In the first theory, petroleum would be formed in the traditional manner, and then converted to bitumen by some additional process. A summary of the oil formation process is presented here, and a more complete version is available on the PETROLEUM page.
The process, in general, begins with the building of organic matter through the action of PHOTOSYNTHESIS. In the case of marine deposits, this begins with phytoplankton, which then enter the food chain that leads to the sedimentation of zooplankton rich in proteins, carbohydrates, and lipids. In terrestrial burial, the process begins in higher order organic life such as trees and shrubs, which then deposit primarily carbohydrates and lignin. The fraction of minerals to organic matter and the composition of the organics themselves lead to differences in the way that organic chemical reactions proceed and are catalyzed.
As organic matter is buried, the process of diagenesis compacts it into organic rich sedimentary rocks. Further degrees of diagenesis then lead to the generation of kerogen which is then, through deeper burial and catagenesis, transformed through various means into crude oil and natural gas, or coal, depending on the precise conditions. In the case of oil shale and, according to the second theory, bitumen sands, the process of catagenesis is never allowed to be completed due to insufficient burial (temperatures and pressures too low). For the first theory, we allow complete catagenesis and petroleum formation; with a third component that represents eventual decay to bitumen.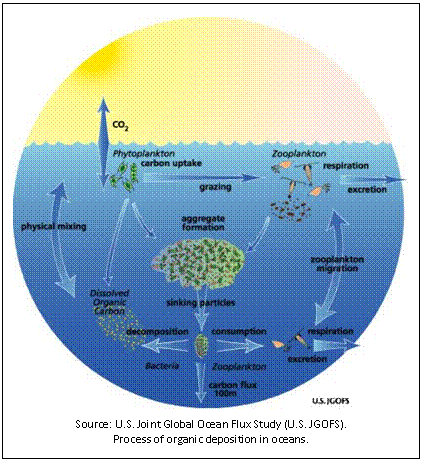 Step 1: Diagenesis forms Kerogen
Diagenesis is a process of compaction under mild conditions of temperature and pressure. When organic aquatic sediments (proteins, lipids, carbohydrates) are deposited, they are very saturated with water and rich in minerals. Through chemical reaction, compaction, and microbial action during burial, water is forced out and proteins and carbohydrates break down to form new structures that comprise a waxy material known as "kerogen" and a black tar like substance called "bitumen".  All of this occurs within the first several hundred meters of burial.
The bitumen comprises the heaviest components of petroleum (i.e. asphalt), but the kerogen will undergo further change to make hydrocarbons and, yes, more bitumen…
Step 2: Catagenesis (or "cracking") turns kerogen into petroleum and natural gas
As temperatures and pressures increase (deeper burial) the process of catagenesis begins, which is the thermal degradation of kerogen to form hydrocarbon chains. The conditions of catagenesis determine the product, such that higher temperature and pressure lead to more complete "cracking" of the kerogen and progressively lighter and smaller hydrocarbons. Petroleum formation, then, requires a specific window of conditions; too hot and the product will favor natural gas (small hydrocarbons), but too cold and the organic matter will remain as kerogen.
In the second theory of oil sand formation, vast organic deposits underwent diagenesis to form kerogen rich compacted sediments similar to oil shale. The process of catagenesis may then have occurred to some extent, but in general, the process did not reach sufficient temperature to undergo complete alteration of the kerogen. Over extremely long periods of time, some portion of this kerogen was transformed into bitumen products, which then seeped into the surrounding sands.