Refining the oil shale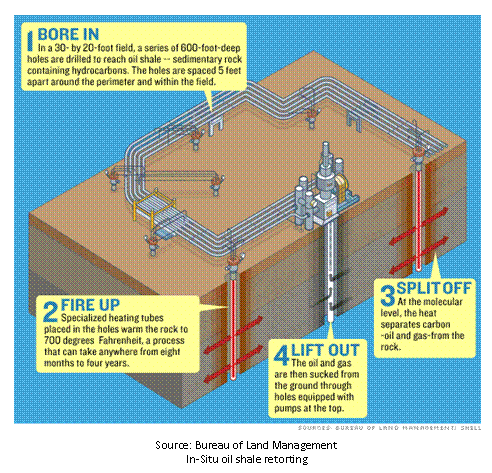 In the same manner that natural mineral catalysts help to transform kerogen to crude oil through the process of catagenesis, metal catalysts can help transform large hydrocarbons into smaller ones. The modern form of "catalytic cracking" utilizes hydrogen as catalyst, and is thus termed "hydrocracking". This is a primary process used in modern petroleum refining to form more valuable lighter fuels from heavier ones.
Oil that is produced from the refining of oil shale is typically referred to as synthetic crude oil, but the process is more closely allied with traditional crude oil refining than syn-fuel processes such as "gas to liquids". The primary process is referred to as "retorting", and involves the "cracking" (or destructive distillation or pyrolysis) of larger carbon chains into smaller ones in the absence of oxygen. Syn-fuel processes (such as Fisher-Tropsch) actually build up larger hydrocarbons from smaller ones, which is the opposite of cracking. Retorting is the cracking process used in shale oil refining, and first breaks down the kerogen to release hydrocarbons, and then further cracks the hydrocarbons into lower weight products.
Retorting can occur in a traditional refining capacity, or may be conducted in-situ. In-situ processes require that the oil shale be heated, to release the petroleum liquids, prior to extraction from the ground.
Oil shale distillates (products of retorting) typically favor the production of middle-distillates (diesel and kerosene), and have higher concentrations of nitrogen than crude oil. To produce light-distillates (such as gasoline) additional processing, such as hydrocracking, is required to break down the larger hydrocarbons. Also, the nitrogen must be removed through some hydrotreating process, comparable to hydrogen desulfurization to remove sulfur from crude oil, such as hydrodenitrogenation.
Because hydrogen will be required in the refining process (bitumen is carbon rich and hydrogen poor), an additional source of hydrogen (such as methane) is needed. Therefore, some other fuel in addition to bitumen is needed to produce synthetic crude oil, which adds to the cost and energy intensity (and carbon dioxide emissions) of the process (2 fuels

 1 fuel).